LOREEV XR®. A once-daily capsule for the treatment of anxiety.
LOREEV XR is an anxiety treatment designed to fit into your day. It simplifies the need to take lorazepam tablets 3 times a day, with a convenient, once-daily capsule.
What is LOREEV XR?
LOREEV XR contains lorazepam, the same active drug in Ativan®, but in an extended-release form. Because the medication in LOREEV XR is released gradually, it can be taken once a day.
Ativan® is a trademark of Bausch Health Companies Inc, or its affiliates.
Why LOREEV XR may be an appropriate choice
There are a number of reasons why your doctor may feel LOREEV XR is a good choice to manage your anxiety, including:
Once-daily dosing

LOREEV XR is taken once a day. This is a convenient way to reduce the number of pills you have to remember to take each day.
Extended-release formulation

Extended release means there's medication at work in your body throughout the day.

LOREEV XR may feel different because it is an extended-release medication. Your body is used to the immediate release of lorazepam, so it may need to adjust to the extended release.

The effectiveness of using LOREEV XR or lorazepam for more than 4 months has not been studied. Your prescriber should consult with you periodically to evaluate longer-term use.
How is LOREEV XR different?
The graph shows an important difference between LOREEV XR once-daily medication and lorazepam immediate-release medication (taken 3 times per day as directed):
LOREEV XR provides continuous delivery of medication over 24 hours. With immediate-release lorazepam, there may be highs and lows of medication in your system
Level of medication in your body:
Once-daily LOREEV XR vs immediate-release lorazepam 3 times a day
How do you take LOREEV XR?
Take LOREEV XR once daily in the morning, with or without food.
LOREEV XR can be sprinkled:
If you have trouble swallowing medication, you can open the capsule and sprinkle the entire contents over a tablespoon of applesauce. You should drink water after taking LOREEV XR in this manner
Do not crush or chew LOREEV XR
Save money every time you fill your LOREEV XR prescription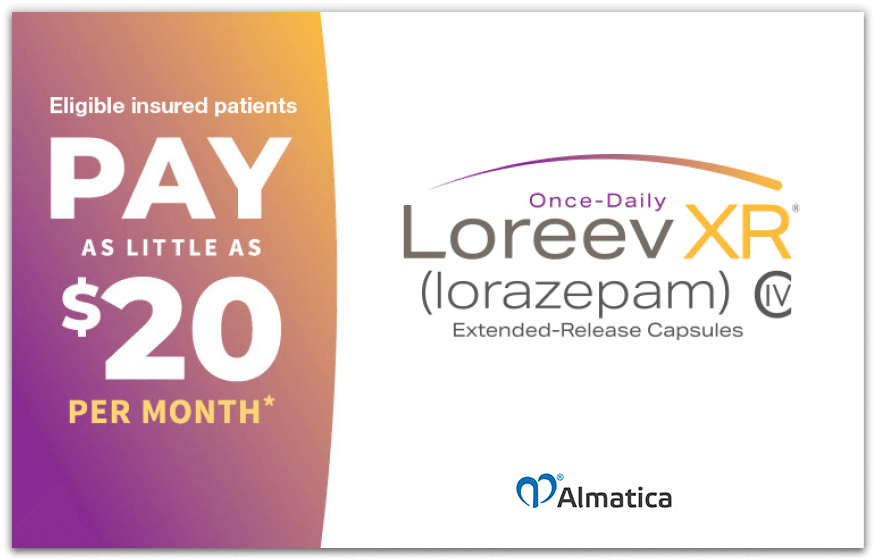 With the LOREEV Patient Savings Program, eligible insured patients pay as little as $20/month for LOREEV XR.

*
Download LOREEV XR Patient Savings Card
* Applies to commercially insured patients. Individual costs may vary. Program eligibility and restrictions apply.
Important Safety Information
Taking LOREEV XR with opioids, alcohol, or other central nervous system (CNS) depressants (including street drugs) can cause severe drowsiness, breathing problems, coma and death.
LOREEV XR is a federally controlled substance (CIV) because there is a risk for abuse, misuse, and addiction which can lead to overdose and serious side effects including coma and death.
Stopping LOREEV XR suddenly can cause serious and life-threatening side effects.
Do not take LOREEV XR if you
are allergic to lorazepam, other benzodiazepines, or any ingredient in LOREEV XR
have acute narrow angle glaucoma
Tell your healthcare provider about all your medical conditions, including if you:
have or had depression, mood problems, or suicidal thoughts or behavior as pre-existing depression may emerge or worsen during use
have a history of drug or alcohol abuse or addiction
have lung disease or breathing problems as slowed and stopped breathing has happened with drugs like LOREEV XR
have liver or kidney problems
have or have had seizures
are pregnant or plan to become pregnant as LOREEV XR may harm your unborn baby
are breastfeeding or plan to breastfeed as LOREEV XR passes into your breast milk and may harm your baby
Tell your healthcare provider about all the medicines you take, including prescription and OTC medicines, vitamins, and herbal supplements. LOREEV XR can affect the way other medicines work and other medicines may affect how LOREEV XR works and can cause serious side effects. Do not start or stop other medicines without first talking to your healthcare provider.
LOREEV XR can make you sleepy or dizzy and can slow your thinking and motor skills. Do not drive, operate heavy machinery, or do other dangerous activities until you know how LOREEV XR affects you.
Patients taking drugs like LOREEV XR have reported agitation, irritability, impulsiveness, violent behavior, confusion, restlessness, excitement and talking more than normal.
LOREEV XR 1 mg capsules contain FD&C Yellow No. 5 (tartrazine), which may cause allergic reactions in certain people.
Your healthcare provider should do blood tests to check your blood counts and your liver function if you are on long-term treatment with LOREEV XR.
The most common side effects of LOREEV XR include sedation, dizziness, weakness, unsteadiness. These are not all the possible side effects of LOREEV XR. Call your doctor for medical advice about side effects.
You are encouraged to report negative side effects of prescription drugs to the FDA. Visit www.fda.gov/medwatch, or call 1-800-FDA-1088.
LOREEV XR is a prescription medicine used to treat anxiety disorders in adults who are receiving stable, evenly divided, 3 times a day dosing with lorazepam tablets.
For additional safety information, see the LOREEV XR Medication Guide and Full Prescribing Information including Boxed Warning and discuss with your doctor.